GCI Roofing Accessories
VentiRoll AV295/AV340™
VentiRoll™ is a premium grade dry fix solution designed to replace traditional cement mortar for ridge and hip. The unique design of VentiRoll™ enable formation over extreme roof profiles, preventing wind-driven rain from entering the peaks and corners of the roof while facilitating roof ventilation.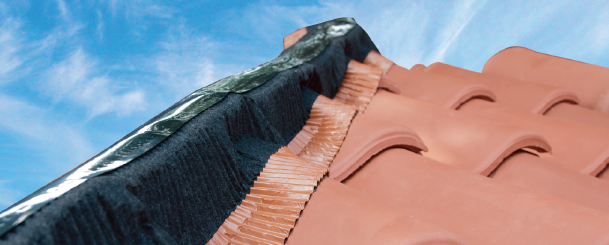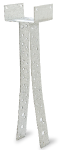 The ridge tree (recommended to be use with VentiRoll™) acts as a guide for optional alignment for fixing of ridge and hip saddle, which aesthetically compliments the ridge and hip line.
Product Data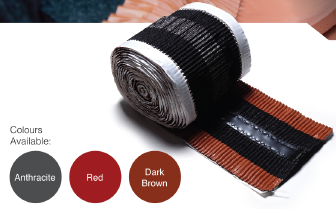 Side Strips
Coated Aluminium foil with novel pleating technology providing a minimum 30% stretchability
Middle Section
Fleece with innovative ventilation technique
Roll Dimensions
AV295
AV340
Length
10m
10m
Width
295mm
340mm
Colours
Red/Anthracite/Dark Brown
Back to top
---
VersaFlash™ AF280/AF300
VentiFlash™ is a premium grade dry fix abutment solution specifically designed to replace traditional metal flashing. The versatile design of VersaFlash™ enable flashing over extreme roof profiles while maintaining its watertight seal to the roof surface.

The flashing strip when used in conjunction with VersaFlash™ further enhances the watertight tightness capabilities at abutments. It is recommended that the flashing strip to be sealed with weather resistant sealant.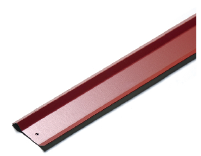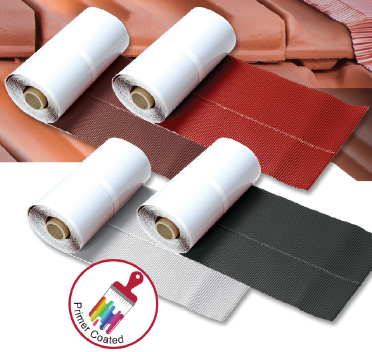 Product Data
VersaFlash™
Roll Dimensions
Length
5m
10m
Width
280mm
300mm
Thickness
2 ± 0.2mm
2 ± 0.2mm
Available Colors
Red/Anthracite/Dark Brown/Primer Coated
| | |
| --- | --- |
| Flashing Strip | |
| Material | Clean colorbond® steel |
| Length | 1.22m |
| Width | 65mm |
| Available Colors | Red/Anthracite/Dark Brown/Zinc |
Installation guide for applying VersaFlash™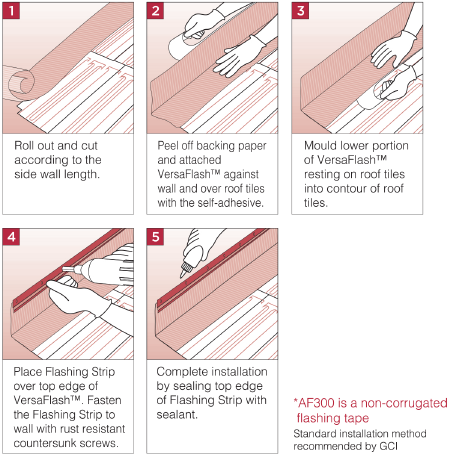 For more information on GCI STD-S Pantile For more information on GCI Heat Insulation Solution
Back to top
---