Capturing the solar energy with energy efficient roofing solutions
As part of MONIER's Energy Efficient Roofing Solutions, MONIER® Solar Water Heating System is an energy-saving, safe and high performance system that taps on the abundant natural resources of the sun to fulfill your water heating needs in a clean, environmentally friendly manner with zero impact on the eco-system. In addition to saving on your traditional water heating energy consumption, you also protect the environment by using free energy in a more efficient way.
Our Solar Water Heating System can easily be incorporated and is in compliance with all MONIER® Roof Systems. You can maximise your cost savings by creating an energy efficient roof with our CoolRoof System for cool comfort and Toplight® to brighten your home with natural sunlight.
Monier Advanced Solar Heating System is part of Monier's energy efficient products, click the logo to find out more

Features
Better Savings - Enjoy ZERO electricity consumption and maximise your cost savings
Safe - Eliminates potential electrical hazards
Energy Saving - Minimises the use of electricity by maximising the use of natural resources of the sun
Comfortable - Provides the comfort of a warm shower during rainy days or cold mornings
Environmental-Friendly - Minimises impact on the environment through efficient and eco-friendly use of energy
Convenient - Designed to give you optimum convenience by providing immediate hot water at all times
There are two different types water heating system that you can choose based on the type of installation. Please click to know more about Indirect System. For Direct System please click to know more
---
Indirect System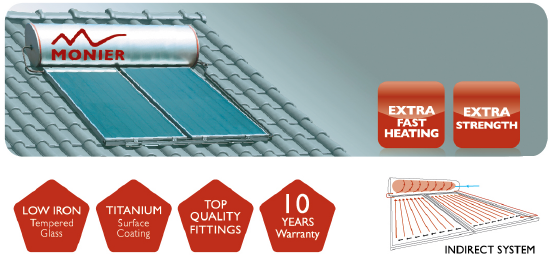 MONIER's Premium range of Solar Water Heating System is designed with a technically superior indirect heating system and is suitable for concealed installation, solving our customer's needs for aesthetically seamless finish. This system channels the sun's energy into the solar collector and heats up a transition fluid which transfer heat to the cold water in the storage tank. Low maintenance is required as no direct water is channeled through circulation system and water heats up faster.
Direct System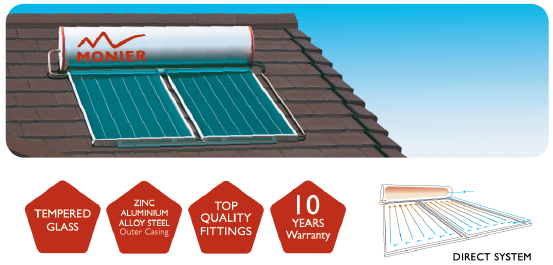 MONIER's Standard range of Solar Water Heating System utilises a direct system which optimises your water heating requirements. This system absorb the sun's energy through its solar collection, turning the cold water into hot water; which rises to the water storage tank. The constant heat absorption process will ensure continuous hot water supply whenever you need it. This system offers a choice of three sizes - 180 litres, 300 litres and 450 litres.
---
Overall Dimension
Capacity (Storage Tank)
Premium 300 (Aesthetic Installation) 300 litres
Premium 300 (Classic Installation) 300 litres
Standard 180 (Classic Installation) 180 litres
Standard 180 (Classic Installation) 300 litres
Standard 450 (Classic Installation) 450 litres
Panel Dimension (LxWxH)mm
1940 x 2290 x 75mm
1940 x 2290 x 75mm
1940 x 1016 x 75mm
1940 x 2290 x 75mm
1940 x 3320 x 75mm
Storage
Outer Cylinder Case Material
Aluminium Stucco
Zinc Aluminium Alloy Steel
Tank Insulation
High Density Pressure Injected Polyurethane Foam
High Density Pressure Injected Polyurethane Foam
Collector
Design
Ultrasonic welding Permanent molecular bonding between fin and riser tube results in high heat absorption and better efficiency
Plate & Tube
Plate Material
Copper
Aluminium/Copper
Surface Coating
Titanium Blue Panel
Matt Black Polyester
Absorption Coefficients
> 0.96 ± 0.02
> 0.94 ± 0.1
Riser Tube Quantity
16
6
12
18
Casing Material
Aluminium
Zinc Aluminium Alloy Steel
Glass Material
Low Iron Tempered Glass
Tempered Glass
Glass Thickness
3.0 mm
4.0mm
4.0mm
3.2mm
Conceal Tray
Required
Not Required
Not Required
Not Required
Not Required
Back to top