Terreal Malaysia roofing provides a comprehensive products that covers all your roofing needs. When you use Terreal Roofing Components, you can rest assured that all its products are tested to highest standard. Thus your investment into Terreal Roof tiles are secured with Terreal Roofing Accessories.
Please feel free to browse through Terreal's comprehensive roofing components below:-
---
Terreal Drymax Energy+®
Drymax Energy+® is nonwoven breathable membrane using latest state of the art micro-perforation technology, designed to keep both water and air out, yet allowing vapor to flow out. The Drymax Energy+® also acts as an insulation product, reflecting up to an impressive 97% of heat radiation.
Features
Fully waterproof - W1
Fully air tight - windbreak
High water vapour permeable - sd < 0.05m
CE marking as vapour control layer
Reflects up to 97% of heat radiation
Product Data
Property
Units
DryMax Energy+ ®
Layers Description
SB PP/Film PP/SB PP
Nominal Weight
GSM
165
Emissivity (ASTM E-408)
0.05
Reflectivity
0.97
Heat resistance contribution (ISO 6946) (walls with 20mm air gap)
㎡ ℃/W
0.80
Heat resistance contribution (ISO 6946) (walls with 20mm air gap)
Btu*in/(hr * ft² * ℉)
4.56
Tensile Strength MD (ISO 9073)
N/5cm
190
Elongation at Peak MD (TAPPI T-494)
%
90-120
Elongation at Peak CD (TAPPI T-494)
Joule
90-120
Nail shank tear resistance MD (prEn 13859-1)
N
110
Nail shank tear resistance CD (prEn 13859-1)
N
140
Air Tight(EN Standards)
Windbreak
MWTR(Water Vapour Transmission Rate) Standard EN ISO 12572
g/㎡/24hr
± SD -0.03
Water Repellency (En Standard:ISO 811-1981 & EN 1928-A)
Class - W1 (≥ 2500)
Resistance to fire
DIN 4102
B2
Yield(Nominal)
g/㎡
165
Standard Roll Size
m X m
1.35m x 50m
Coverage area
㎡
67.00
Standard Roll Weight(Gross)
kg
± 11.00kg
*TERREAL reserves the rights to change the technical specifications without prior notice.
ZEN Tile Roof System with DryMax Energy+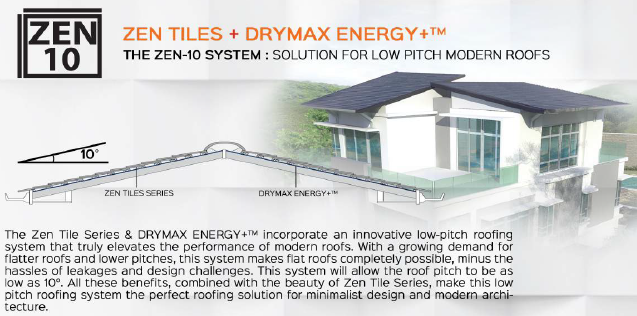 Terreal Drymax Energy+ is compatible with other Terreal Roof Systems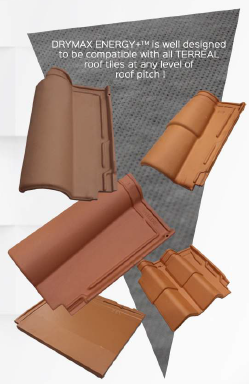 Terreal Drymax Energy+® is compatible with Romane EVO, Romane XL, Romane Canal, Zen Tile and Volnay PV Roof Systems
---
Terreal Dry Fix®
Terreal Dry Fix is a versatile, self adhesive tape, consisting of a 0.064mm reinforced aluminum foil backed with a 1.45mm weatherproof self adhesive compoung which is protected by a silicone release film.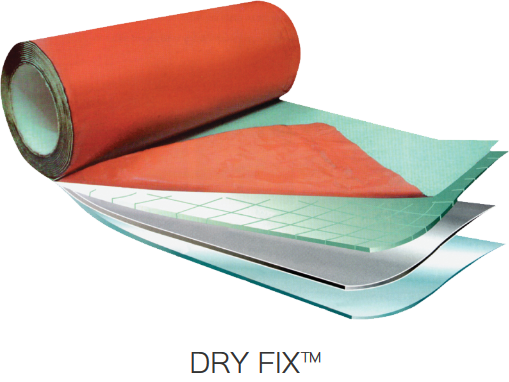 Features

Metal Protection Film
Anti tear Reinforcement
Adhesive Compound
Release film
1 roll = 30 cm (Width) x 10m (Length)
Advantages

Fast and easy application
Adheres on most construction materials including clay,asphalt,brickwork,cement,marble,ceramics etc
Adheres to the substrate and to itself, eliminating the problem of wind lifting and wind driven water ingress
The metal surface received a special treatment allowing them to be easilty painted to match other colors
For installation that involves nailing and puncturing, the membrane's special compound will seals the area being installed thus waterproofing and preventing tear.

Colors are available as below:-
Installing Dry Fix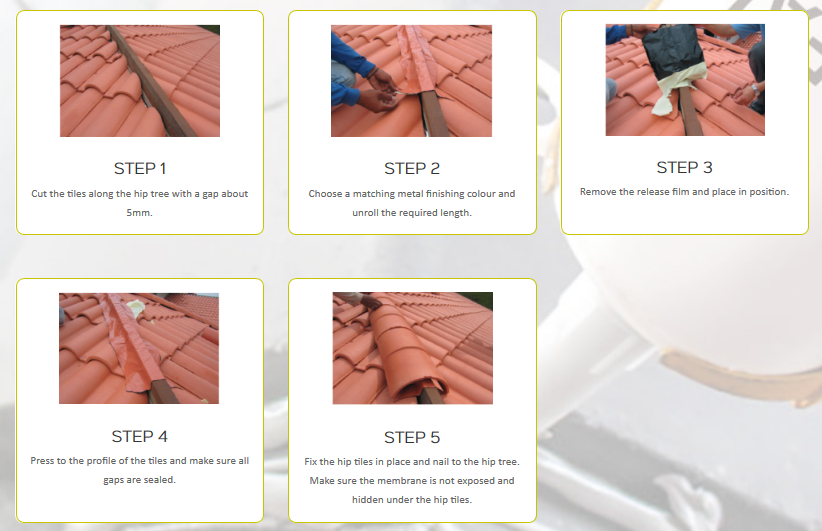 Back to top
---
Terreal Dry Fix Premium®
Dry Fix Premium® is a perfect solution for hip and ridge, providing better and neat finishing, as well as advanced ventilation. Terreal Dry Fix Premium® has an aluminum skirting with a stretching factor of 30%, giving it perfect ability to mould on tile surface. The area to be apply on need to be cleaned and thoroughly dried before applying the Dry Fix.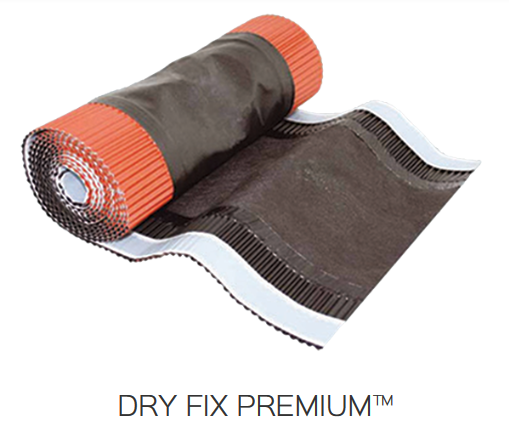 Product Data

Width - 30 cm
Length - 10m

Colors available for Terreal Dry Fix Premium®
For installation of Dry Fix Premium please refer to the Dry Fix guide above
Back to top
---
Terreal Dry Flash Premium®
Terreal Dry Flash Premium® is a perfect solution for abutment providing better and neater finishing. It is an aluminum product with high degree of flexbility as it is made of continuous corrugation and multiple pre-fabricated bending lines.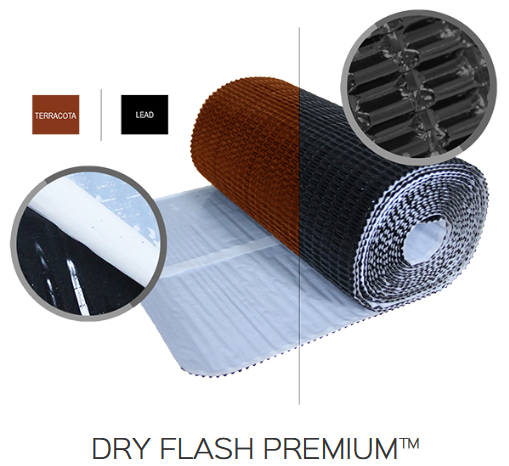 Features

Full Aluminium Product

highly durable and weather resistant

Pre-determined bending lines
High quality color coating

Durable UV-Resistance
high material break resistance
self cleaning properties

Full butyl adhesive

additional security against rain

Continuous corrugation

stretch factor of 30%
perfect mouldability on tile surface

Product Data

Width - 30cm
Length - 10m

Color Available

Terracotta/Lead (refer to the image on the left)
Installation Guide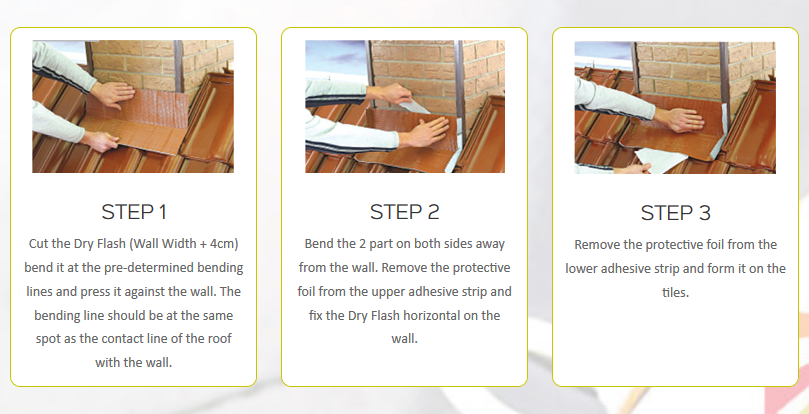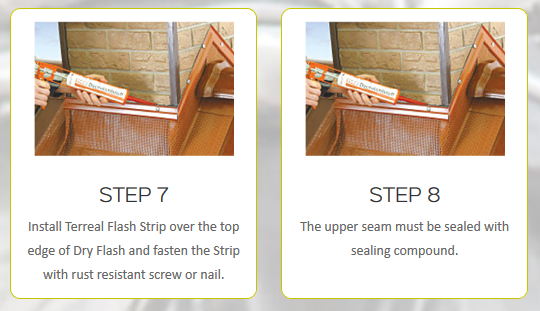 Back to top
---
Terreal Flash Strip
Terreal Flash Strip is made of clean colourbond zincalume. Terreal Flash Strip is installed over the top edge of Dry Flash. This is to further secure the Dry Flash to the wall in case of paint peeling in the future.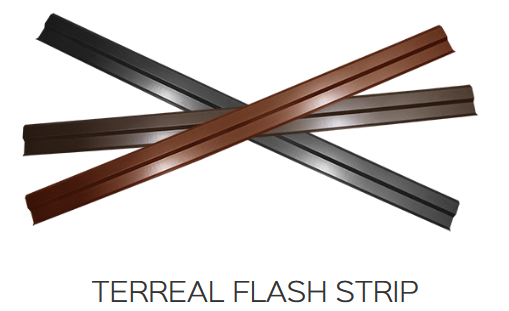 Product Data

Height - 80mm
Length - 1m

Colors available
For installation of the Flash Strip please refer to the Dry Flash Premium Installation Guide Step 7 above
Back to top
---
SealMax
A multi-purpose, non-staining sealant based on advanced polyether technology, offering excellent strength and adhesion characteristic. SealMax is suitable for use over a wide range of industrial bonding and sealing applications. It is solvent and iscoyanate-free and may be painted over with most paints.

High Bonding Strength
Non-staining, solvent & Iscoyanate-free
Neutral,Odourless & Fast Curing
Indoors & Outdoor Use
Excellent UV & Weather Resistance
Paintable & Environmentally-Friendly
Low VOC

Advantages

Non dirt streaking and no cracking
Strong and durable bond
Easy, clean and safe to use
Suitable for both interior and exterior applications to provide weather-proof joints between various substrates including roofs, gutter, wallsheets, downpipes, sheet metal water tanks, composite structures and etc
Back to top
---
Bird Stop
Allow airflow and prevents the entry of birds and vermin into the batten cavity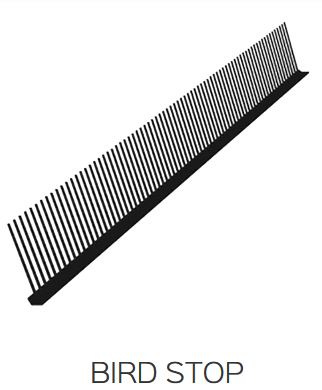 Advantages

Protects against entry of birds, vermin and debris
Comb adjusts to suit any profile of tile
Fixing slots allow easy fixing
Lightweight and durable

Product Data

| | |
| --- | --- |
| Length | 1 m |
| Material | Polypropylene |

Colors available
Installation options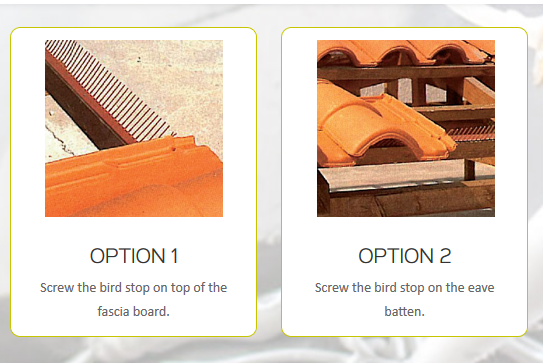 Back to top
---
Sockect Sleeve
Socket Sleeve is used on top of socket tile to improve aesthetic and water tightness of your roof. No zinc or mortar is needed.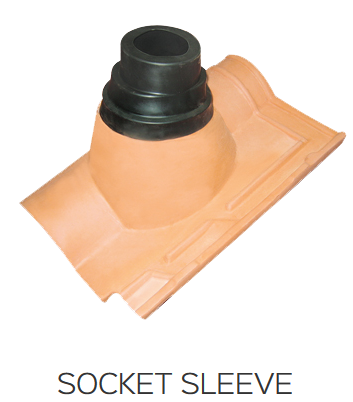 Advantages

Match the profile of Terreal Romane Evo Socket Tile
Reduce leakage issue due to unsuitable flashing
Lightweight and durable

Product Data

| | |
| --- | --- |
| Diameter | 150mm |
| Material | Polypropylene |

Colors available
Installation guide
Please ensure the surrounding area where the socket sleeve is going to be installed is free from dirt and dry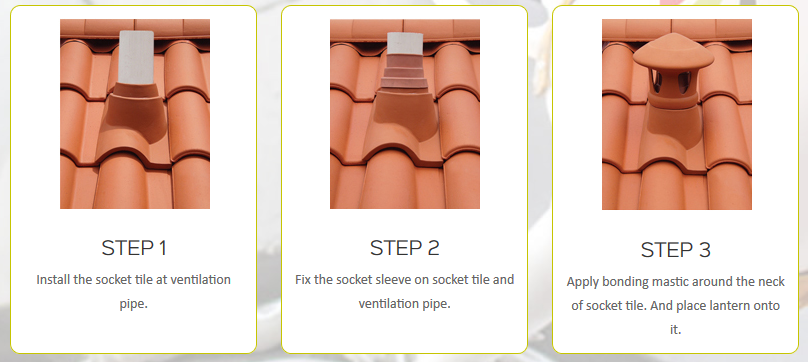 Please take note that the LANTERN/SOCKET TILE is being sold separate from the SOCKET SLEEVE. LANTERN/SOCKET TILE has to be purchased separately.
Back to top
---
Clear Tile (Glass Type)
Terreal Clear tiles are made from high quality glass which allows up to 90% natural light transmission.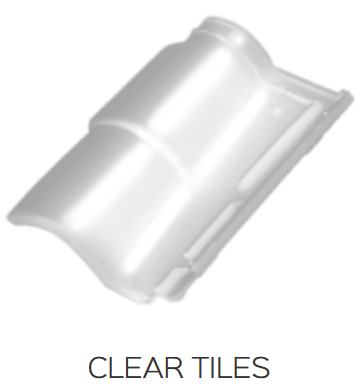 Product Data
| | |
| --- | --- |
| Thickness | 3mm |
| Dimension | All glass tiles for Romane Evo, Romane XL, Romane Cananl and Zen follows their respective profiles in their sizes |
Terreal Glass Tiles for all profiles

Installation guide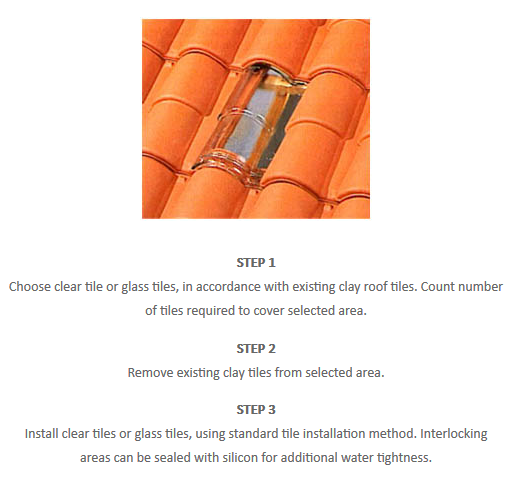 Back to top