SolarMax™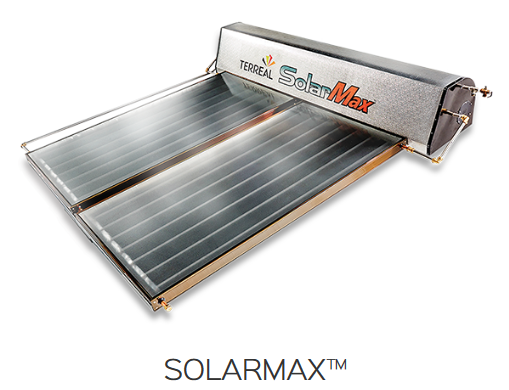 With over 20 years of experience in solar technology, SolarMax™ commands a term of professionals dedicated to providing only the best solar hot water system. Be it design, durability, high performance, cost effectiveness or customer satisfaction, SolarMax™ will be the most trusted choice. With its pure lines and powerful streamlined curve, coming in a comprehensive range of colours, it covers traditional homes as well as contemporary constructions. Manufactured in Malaysia, you can be sure of its quality and local adaptability, backed by a unique 10 years warranty.
Imagine a solar hot water system that requires no gas / electricity bills, conserves hot water up to 72 hours and totally reliable, economical plus environmentally friendly. Perfect! And it is absolutely trouble-free, leakage-free and needs minimal maintenance. It is backed by a 10 years international warranty, one of the most outstanding warranty found in the market!
Benefits
Energy Efficient - Saves electricity consumption
Safe - No electricity mishap and safe from electrocution
Durable - Minimal maintenance required, with up to 10 years warranty(Terms and condition apply)
Back-Up Booster - Incorporated with a back-up booster when more hot water is needed than usual
Three different capacitiy tank to choose from.
Product Data
General
SW30
SW60
SW66
Total Capacity
30 Gallons (136 liters)
60 Gallons (272 liters)
66 Gallons (300 liters)
Overall Dimensions (L x W x H)
1220 x 2546 x 457mm
2440 x 2546 x 457mm
2680 x 2546 x 457mm
Weight Empty (Tank & Collector)
56kg
106kg
115kg
Weight Full Total (Tank & Collector)
192kg
378kg
415kg
Usage Subject to
3 - 4 persons
4 - 6 persons
7 - 8 persons
Storage Tank
Outer Cylinder Case Material
Stucco Aluminium
Tank Insulation
High Pressure Injected Polyurethane Form (CFC)
End Cover Material
Stainless Steel 304 With Black Powder Coating
Nominal Working Pressure
500kPa (5kg/㎠)
Cylinder Test Pressure
1400kPa (14kg/㎠)
Reflief Valve Settings
700kPa (7kg/㎠)
Laminar Flow Stratfier
Available (Stainless Steel)
Electrical Booster Element
3kW with Safety Thermostat
Collector
Collector Design
Aluminium Fin & Copper Tube(Ultrasonic Welding)
Surface Coating
Selective Anode Oxidation
Insulation
30mm Glass Wool
Riser Tube Quantity
7
Height
80mm
Absorber Area
2㎡
4㎡
4㎡
Casing Material
Aluminium Alloy
Glass Thickness/Material
3.2mm Low Iron Tempered Glass
SolarMax™ Premium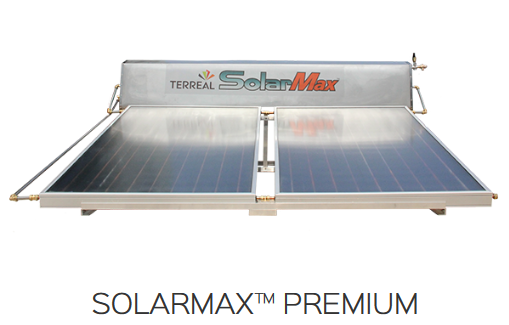 SolarMax™ Premium is using Blue Titanium TiNOX™ collector, specifically designed to provide higher efficiency to our Thermosiphon system. The higher efficiency Blue Titanium TiNOX® collector with its highly selective surface maximize the absorption of available solar energy, enabling a reduction in the collector size without any compromise on performance. SolarMax™ Premium also features our revolutionary multi-flow collector panel which uses a huge 31 tube risers, assembled with ultrasonic welding, to receive the maximum amount of energy from the sun. SolarMax™ Premium gives you the guarantee of high performance Hot water on demand every day!

High Efficiency and Durability for all parts of Terreal SolarMax System
SolarMax™ Premium is the only choice when it comes to high efficiency and durability. It combines in a system of Blue Titanium TiNOX® Absorber,Low Iron Tempered Solar Glass and corrossion resistant Stainless Steel for optimum performance.The new model SolarMax™ Premium system was designed and manufactured in Europe for a range of conditions. Not only it will complement any home's roof and save you immediately on your energy costs, it offers you peace of mind knowing it has been developed to last for years.
Maximum Heat Radiation Transmission through Solar Glass
The Low Iron Clear Tempered Solar Glass allows higher heat radiation transmission at acute angles of incidence and its textured surface also creates excellent adhesion for solar panels to deliver consistently high and maintenance free performance. Glass panels are tested at SPF Certification Solar glass in accordance with European standards for solar photovoltaic panel and solar collector.
Guaranteed Corrossion Resistant with AISI 316 Marine Grade Stainless Steel
The storage cylinder tanks of SolarMax™ Premium roof-mounted solar water heaters are constructed from long life stainless steel, using AISI 316 Marine Grade Stainless Steel. Selected from our experience is the most suitable stainless steel specification with thickness 1.5mm, it acts as a natural barrier to corrossion.
10 years International Warranty
Every SolarMax Premium water heater comes with a 10 years international warranty, covering all major components. Back up electric booster is covered with 1 year warranty. So you can relax and enjoy the fact you are getting your hot water free from the sun, knowing that Terreal is behind its product all the way.
Product Data
Overall Dimensions
Premium SM 60
Premium SM 300L
Total Capacity
60 gallons (272 liters)
66 gallons (300 liters)
Overall Dimensions (L x W x H)
2600 x 985 x 460 (mm)
2900 x 985 x 460 (mm)
Overall Weight (Empty)
99 kg
104 kg
Overall Weight (Full)
372 kg
410 kg
Storage Tank
Outer Cylinder Case Material
Stainless Steel
Tank Insulation
High Density Pressure - Injected CFC Free Polyurethane Foam Insulation
End Cover Material
Stainless Steel
Tank Cylinder Material
1.5mm AISI 316 Marine Grade Stainless Steel (Japan)
Normal Working Pressure
500 kpa (5kg/㎠)
Relief Valve Setting
700 kpa (7kg/㎠)
Overall Test Pressure
1500 kpa (15kg/㎠
Electric Booster Element
3Kw/Thermostat
Collector
Design
Ultrasonic Welding
Plate Material
Copper
Surface Coating
Blue Titanium
Absorption Coefficients
95% ± 2%
Riser Tube Quantity
31
Glass Material
3.2mm Low Iron Tempered Solar Glass(USA)
Casing Material
Stainless Steel
Insulation
Back Panel: 40mm Rock Wool
Side Panel: 10mm Rock Wool