BMI Monier Elabana
BMI MONIER® ELABANA® Roof system has been protecting homes from the harsh tropical weather in Malaysia for over 20 years. Bringing you even more added value,BMI MONIER® has bridged all elements of World Class Industrial Excellence in roofing technology,superior quality and cost efficiency into the new BMI MONIER® ELABANA® TROPICAL Roof System.
Features
Dimensionally Consistent - High quality toolings were used to produce BMI MONIER® ELABANA® TROPICAL which gives it the dimensionally consistent shape and size to ensure high level of roof performance.

Easy Installation - Moulded with precision and uniformity to ensure dimension stability for a consistent and perfect fit each time. Tiles can be laid cross-bond and straight-bond.

Compact Round Nose - The unique round nose,improves ageing by delaying fungus and algae growth at the nose of the tile. This feature is well-matched and suitable for Malaysian weather.

Superior Quality - In compliance with MS797:PTI:1982 product certification, you can be assured that roof tiles are extremely durable.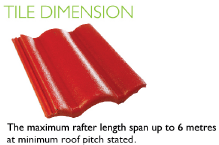 Product Data
| | |
| --- | --- |
| Dimensions | Length 420mm |
| | Width 330mm |
| Minimum Pitch | 17.5° |
| Weight/piece | 4.2 kg(+0.0,-0.30) |
| Weight/㎡ | 40.7 kg/㎡ (+0.0, -2.9kg/㎡) |
| Minimum Headlap | 75mm |
| Maximum Headlap | 125mm |
| Coverage | 9.7 pcs/㎡ (based on 75mm headlap) |
Housing project using BMI Monier Elabana Profile - Russet Brown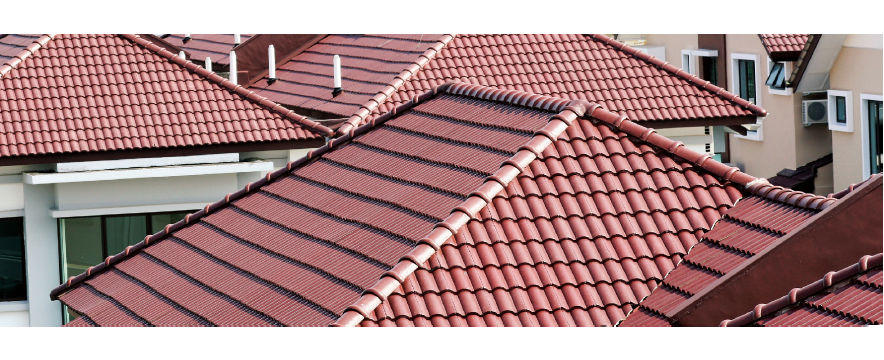 Colour Chart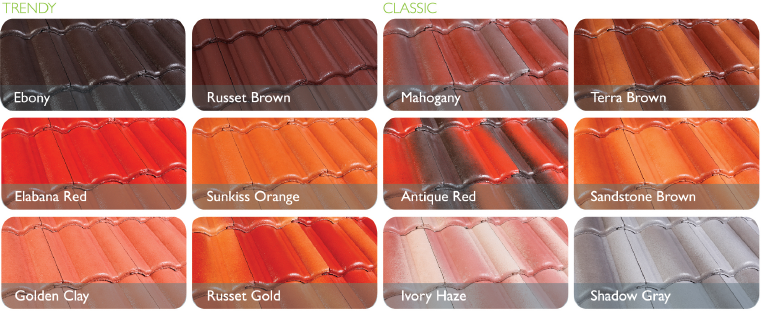 The colours shown here are reproduced as close to the original as display technology allows. For best accuracy on the colour selection,refer to the actual tile.
Fittings

Back to top
---