BMI Monier Horizon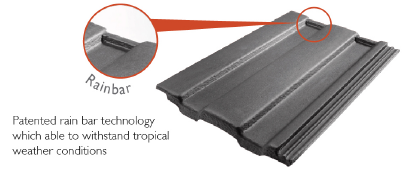 BMI Monier® roofs are trusted for over 50 years by Malaysian homeowners. Every product is extensively tested in BMI Monier® laboratories in Germany for extreme weather conditions.
BMI MONIER HORIZON® 8 ROOF SYSTEM by BMI Monier® is specially designed for contemporary low pitched roof. It offers proven leakproof performance, superior heat reflectivity, higher residual heat dissipation and significantly quieter acoustics to create a comfortable living environment in tropical climate.
BMI MONIER HORIZON® 8 ROOF SYSTEM is available in a selection of attractive designs and colours to achieve the minimalist design that will stand the test of time.
Product Data
| | |
| --- | --- |
| Dimensions | Length 420mm |
| | Width 330mm |
| Minimum Pitch | 8 ° |
| Weight/piece | 4.5 kg/pc |
| Minimum Headlap | 100mm |
| Batten Spacing * | 320mm center to center |
| Coverage | 10.4 pcs/㎡ (based on 100mm headlap) |
*Maximum rafter length is 8m at 8 °
*c/c - center to center
Features
Contemporary Style

Modern & Stylish
Trendy colours to suit contemporary design
Suitable for roof pitches from 8°

100% Leakproof

Long-lasting water tightness with multiple water barriers
Proven long lifespan of concrete tiles
Complete peace of mind during rainy days

Low Noise

Outstanding acoustic performance derived from natural properties of concrete tiles
Quiter indoor environment for more comfortable living

Superior Heat Reflection

Offers effective reflection of rediant heat
Cooler indoor environment for more comfortable living
Project using BMI Monier Horizon 8 (Low Pitch)

BMI Monier Horizon Color Chart

The colours shown here are reproduced as close to the original as display technology allows. For best accuracy on the colour selection,refer to the actual tile.
BMI Monier Horizon Fittings

BMI Monier Horizon Installation Guideline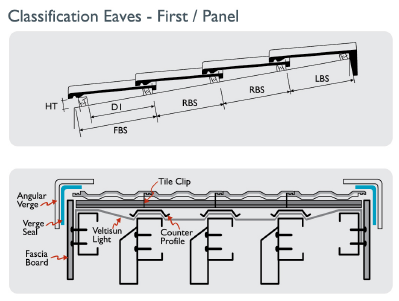 | | |
| --- | --- |
| HT | Height of standard batten +20mm |
| FBS | First batten spacing (Approximate 300mm) |
| DI | Distance between first batten and tilting batten (200mm - 210mm) |
| RBS | Remaining batten spacing (320mm c/c) |
| LBS | Last batten spacing(190mm from external surface of Fascia Board) just for monoridge |
*Roof must be designed and constructed according to specified sizes and specifications.
---
No part of the content such as digital photographs or articles may be reproduced without prior written permission.
Copyright @ 2022 Weng Wai Trading Sdn Bhd